6 Ways Lockdown Can Help You Get Your Finances in Order
This is part 3 of the money saving tips series. Here are some tips to use lockdown to your advantage, get your finances in order and best of all, help you save money!
1. Keep Track of Your Finances
When is the last time you paid attention to the fine details of your finances? How many direct debits do you have? How many subscriptions do you pay? Do you know the average you spend on groceries in a week? Since you are in lockdown and most likely working from home, you have no excuse to ignore your state of funds. It's time to dissect your accounts and figure out exactly what is going on with your finances. Once you have done so, creating a budget going forward will keep your finances on track.
It is easy to create a budget, but it is not easy to follow through with it. If you are looking for a hassle-free and easy to understand way to keep track of your finances, look no further!
Nova is an AI that will show you how to set the right saving goal, automate your financial planning, and track your progress. It is simple and it works. You can download it for free on both the App Store and Google Play.
2. Manage your Subscriptions and Direct Debits (Detox)
Once you have your finances in-check, the next thing to do is to 'detox.' It's time to track down unused subscriptions and unwanted direct debits. If you are no longer in need of your Gym membership, you can choose to cancel your membership or at times, some gyms may offer the option of freezing your accounts. You may be still paying for a mobile number from your past that you no longer use - be sure to cancel this payment and save as much as you can. If you are no longer in need of a TV license because you have transitioned full-time to online subscriptions, be sure to address this too. If you are no longer heavily using your car and are not in need of using it for a long time, you may want to consider cancelling your car tax to save some money. The aim of the game is to reduce your variable costs and save as much as you can.
Here are some links that may help you on your detox:
How to Cancel TheGym membership 
3. Reduce Food Delivery and start Home Cooking!
That's right, delete UberEats and Deliveroo off your phones! It is a fact that the U.K. takeaway sector is a multibillion-dollar industry. Did you know in 2019 the average household was said to have spent approximately £5 per person (weekly) on takeaway meals?
In 2020, there was a 60% increase in delivery frequency for consumers aged 18-34 years old and a 30% increase for consumers aged 35-54 years old. The projected increased delivery frequency is 26% and 40% respectively.
Instead of spending money on deliveries that are very likely to deliver barely warm or sometimes, soggy food, why not invest in developing your cooking skills?
Adulting can be difficult and when food is but an app away, cooking may be intimidating to many. A lot of the time, people do not know how to repurpose ingredients and find meal planning very time-consuming.
Sorted Club is a great meal pack initiative that is catered to help the average person learn to cook quick midweek gourmet meals for 2 or 4 pax. It is an app that comes with weekly meal packs to choose from - users are allowed to choose a pack a week, and you will receive both written and audible instructions to help you through the entire process. Best of all, you will receive a grocery list along with your meal pack that smartly combines ingredients in the recipes to save you money, and eliminate food wastage! Housemate is a vegetarian? Not to worry! They have plenty of vegetarian packs to choose from.  It only costs £4.99 monthly or £49.99 annually.
4. Sign up for grocery deliveries
Not only is this recommended to help curb the spread of Covid-19, this also helps your wallet! Online grocery shopping helps you get into the habit of meal planning and understanding what you really need. Online shopping limits impulse buys. You are not tempted to wander through aisles and pick up something interesting you may find.
Besides that, online food shopping tends to offer highly competitive prices. This is a result of an abundance of online outlets you could choose from. Therefore, supermarkets are more inclined to up their game, one-up their competitors and offer you the best price possible.
In terms of delivery slots, if you are strategic enough, you may be able to even book free slots! It's a win-win situation.
5. Switch to the best alternative provider
With most of us spending more time at home in lockdown, it is likely we are going to see a spike in energy bills. Did you know the average household can save over £350 annually by simply switching their energy supplier? If you are currently on your provider's standard variable tariff, you are very likely to be missing out on better deals and bigger savings. Besides energy, you can save a lot of money on broadband alternatives too.
Find the best energy deal in your area right now by clicking the link here. For the best broadband deal in your area right now, click the link here.
6. Start Investing Your Money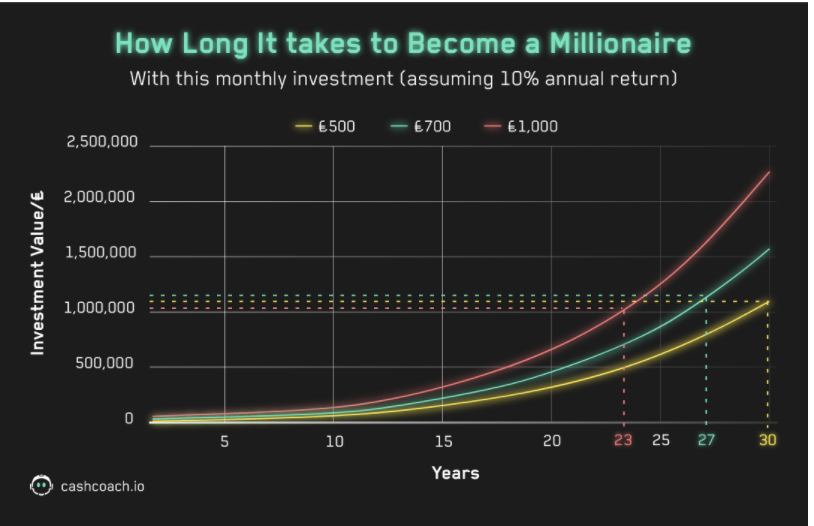 Unlike what most people believe, you do not need to know anything about financial markets to make money through investing. To quote Albert Einstein, "Compound interest is the eighth wonder of the world. He who understands it, earns it; he who doesn't, pays it."
Since 1962, the S&P 500 has averaged a yearly return of 10% since 1962. If you invest £500, £700 or £1000 monthly into an ETF that mirrors the S&P 500 you will have:
The graph above shows how each amount grows exponentially. Assuming a 10% annual return, if you invest £500 monthly, you will make over a million pounds in 30 years. If you invest £700, you will make over a million in 27 years and if you invest £1000, you will make over a million in 23 years.
To understand the power of compound interest, you can read more on it here.
As you can see, the recipe to keeping your finances in check and eventually becoming a millionaire is quite simple. It's only a matter of good habits.
The hard part is to develop and keep up with good habits because the temptation to spend is always more appealing in the short term. That's why we created Nova to be your AI buddy to give you encouragement always, and a kick in the butt when needed. Try it now, it's free!